DeLoach Industries was founded in 1959 and is still a family owned and operated business located in Sarasota Florida and to celebrate its 60th years of business has sponsored the
"First Annual Clean Water Professional Appreciation Award"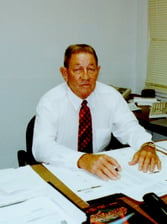 DeLoach Industries, Inc. is one of the oldest and most trusted O.E.M. that manufactures Water, Wastewater, and Odor Control/Air emission equipment in the United States. DeLoach Industries and its founder Walter W. DeLoach (Bill) was a pioneer in the early development first of fiberglass manufacturing which was a relatively new and an unheard of technique. Bill invented what became one of the first "chop" glass systems for FRP applications in the industry to allow FRP to be utilized for shapes and bends as needed in tanks and towers. As DeLoach Industries developed the processes, Bill set his focus on the treatment and purification of "Water" and "Wastewater" and "Odor Control" or "Hydrogen Sulfide" treatment. His interests helped developed the means and methods that are commercially used today in all water treatment facilities.
For many of us who grew up in the industry may recall the old slogan "Hey Culligan Man" but may not know that the home aerator commonly sold with the local Culligan dealer and that is still in production today by a wide variety of companies was originally designed and developed and manufactured by DeLoach Industries Inc., or as the Company's name was years ago before Bill changed it to better describe the variety of markets he was serving, was called "DeLoach Plastics". Bill DeLoach pioneered and commercialized the home aerator in the early 60's which catapulted the company into the water and wastewater purification business.
Later as the business grew in the 60's Bill began working with some of the first innovators who were producing what now is known as membrane technology although at the time came in the form of hollow fibers. Bill DeLoach and DeLoach Industries produced some of the first and original systems utilizing reverse osmosis for applications in the remote Caribbean and Florida islands. Later Bill shifted his focus and began commercialization of "Aeration, Decarbonation, Degasification, Hydrogen Sulfide removal, Steam purification, and Dual Pass Odor Control Treatment" technologies.
The Company today designs and manufactures a wide variety of Water, Wastewater, Environmental, and Odor control equipment and for the municipal, industrial, and food and beverage markets and can provide single components or complete package treatment systems including controls and instrumentation. DeLoach Industries manufactures using "Contact Molded, and Filament Wound Fiberglass and also produces its products in Aluminum, Steel, and Stainless Steel. DeLoach produces FRP duct, Fittings, Tanks, Lids, and all related accessories for the industries it serves. If you have any questions, please contact one of our water treatment professionals at (941) 371-4995.