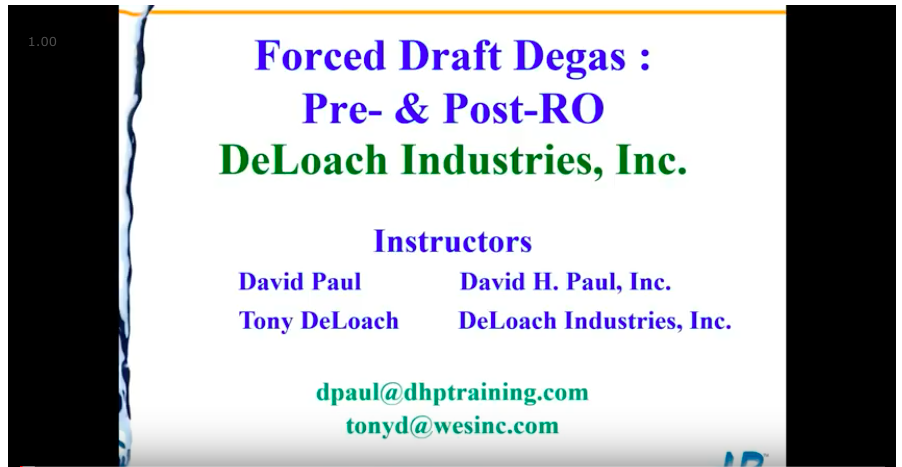 DeLoach Industries, Inc. & David H. Paul Training
David Paul, Senior Sales Engineer, will be your host and provide insightful information on using Forced Draft Degasification for both Pre and Post-Reverse Osmosis.
During the presentation, you will learn what de-gasification is, its benefits, how it works, its variations, and its pitfalls. Forced Draft Degasification is a process where solids are treated by blowing air through them in an agitated tank to cause a scrubbing action. This process is used to reduce the TDS of water, clean up water treatment systems, reduce corrosion, reduce suspended solids, and increase production capacity.
The webinar is intended for all levels of industry, from Engineers and Designers to Operators at all levels of experience. And is intended to provide a broad overview of Forced Draft Degasification on its applications, key benefits, proper design techniques, variations in media selections, and pitfalls to try to avoid
You can also contact us with questions during the webinar, and we will do our best to answer them with real-time information. Thank you for taking the time to review this webinar, and we encourage you to share it with as many people as possible. The more people are aware of this information, our community will be better off.
We hope you enjoy it.
DeLoach Industries Inc.
Serving the Municipal, Industrial, and Food and Beverage industries since 1959. Built in the USA. Corporate office (941)-371-4995.