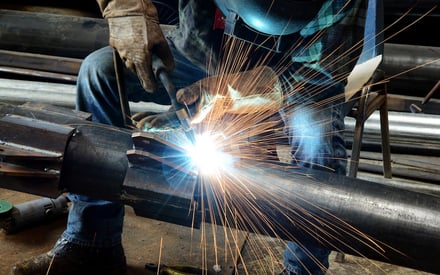 DeLoach Industries offers full support and factory trained field staff for all of our customers' needs which include; equipment installation and setup, FRP duct installation, FRP field wrapping, FRP and steel pipe repairs, platform and tank cover Installations, and more. DeLoach Industries can provide full turn key support services to its customers and contractors when requested to assist in the installation, start up, and training of all systems manufactured by DeLoach Industries.

Annual Service Contracts and Emergency Support:
DeLoach Industries offers annual service contracts on all DeLoach and other brand water treatment equipment. In addition, the highly trained staff can assist and perform emergency services to provide its customers with full support when needed. Our service contracts and repair services include, but are not limited to:
Annual Service Contract on Towers and Scrubbers

FRP Duct or Pipe Modification

Field Leak Repairs (FRP)

Field Leak Repairs (Steel and Stainless)

Fouled Tower Media Cleaning

Blower, Motors, Belts, Bearing Maintenance or Replacement
Water Analysis Review and Odor Air Analysis Review- Our team can assist owners and their engineers in the review and selection process that occurs after obtaining good water quality data or air sample information. DeLoach Industries will assist its customers and their engineers in analyzing the information, prepare the equipment design and specification needed and develop a bill of material necessary to complete the budget and or project review.
System Installation- All DeLoach Industries equipment come offered with an option for factory trained personnel to transport, deliver, unload, install and assemble the DeLoach treatment equipment. We will schedule delivery when the owner, engineer, or contractor would like onsite field services to assure complete satisfaction and warranty protection.
FRP Duct Work Installation and Repair- DeLoach Industries offers complete field services for supplying and installing all FRP manufactured duct, dampers and fittings. For both water and air, our factory trained staff can provide comprehensive field services that comply with all current OSHA standards.
Tank Repair- DeLoach Industries offers full FRP tank repair and modifications. If your tank needs additional fittings or has been damaged we can provide the field repair services you need.
Welding- DeLoach Industries offers field welding services for aluminum, steel, and stainless steel for all types of process plants and facilities. For new, repair, modification, or expansion we can help complete your next welding project. Repair to catwalks, handrails, or tanks can all be provided by our factory trained welding personnel.
Service Contracts- DeLoach Industries offers annual services contracts on all degasification, decarbonation, air stripping towers, and odor control treatment systems. Our service contract assures the owner that the equipment will be cleaned and inspected annually and all of the key components are in top operational condition. Services include: the removal and cleaning of all types of media, blower adjustment and repair, screen cleaning and repair, distribution cleaning and repair, sludge removal, and sterilization.