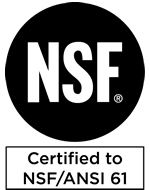 When selecting a water treatment process it is important to consider all of the variables for the application before deciding on materials to be considered and the method of construction. In the water industry professionals are governed by certain requirements and standards and you will commonly here the terms "NSF certification". FDA Chapter 21 and NSF/ANSI 61 standard also applies.
Water purification has many challenges and one of the most challenging is the selection of all of the right materials of construction to ensure the project meets all current certifications as well as meets the expectations of the customer regarding performance and longevity.
There are many types of approved NSF liners, coatings, and resins for the manufacturing of Fiberglass Aerators, Declaration, Degasification towers and tanks but at times you will see engineers specify one verse the other and you might asked yourself why? The answer can range from either the continuing familiarity of one type to what was the most recent vendor that cross the door to make a presentation. The assistance in the preparation of specifications is always a welcome services from a manufacture and assures that the engineering professional is current with all of the most up to date specifications and changes. For more information or to learn more contact the professionals at DeLoach Industries Inc. at (941) 371-4995.
Receive Your Free Odor Control E-Book