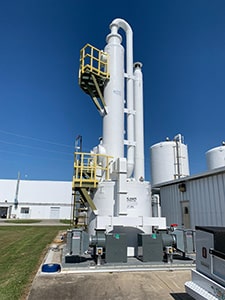 When it comes to Odor Control and Air Emission scrubbers, you're either pleased with how yours works or highly frustrated with how it isn't.
While wet scrubbers are powerful devices that can reduce harmful air pollutants and exhaust gases, not all are created equal. An operator's most common problem with a scrubber is a lack of performance. The following are some main reasons why your scrubber may not work correctly.
When it comes to designing a wet scrubber, different manufacturers have different design standards. Creating a device that can handle high throughput with reduced cleaning cycles. Others will develop a scrubber concentrating on the maximum removal of pollutants.
The wet scrubber that you purchase should be based on your specific needs. If you buy a scrubber not designed for your particular application, you're setting yourself up for problems.
Some factors will determine how well your scrubber will perform, including the gas flow rate, gas pressure, the type of media used, and the design of the scrubber itself. If your wet scrubber design cannot handle your application's specific requirements, you'll experience reduced performance and increased downtime.