One of the largest consumers of energy in the US are the water and wastewater treatment plants.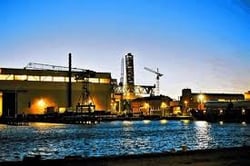 Because of the need for large horsepower pumps and blowers a municipal water and wastewater treatment plant consumes a tremendous amount of kilowatt hours of electricity. The cost of the energy is factored into the "cost of production" of the treatment of water or wastewater and the "rate base" charge is increase accordingly to the consumer.
Does Renewable Power Work in a Water Treatment Plant?
Because solar energy is "space intensive" you do not see a lot of solar power being deployed across the USA at water treatment plants. This is in our opinion a mistake and most likely the decision was made back when solar power output was much lower. Now with increased efficiency of the solar panels and a decrease in production cost it makes tremendous sense to revisit the use of Solar energy for offsetting the operational cost of a water treatment plant or wastewater treatment plant operation.
Providing solar energy for specific pieces of process equipment is also a viable option when you consider deploying solar energy. As an example, to operate a Degasification tower or Decarbonator utilizing 10 350 watt solar panels will generate 3500 watts during peak day light hours and enough to offset the cost of smaller horsepower blower motors. If the solar panels are configured as a canopy they can also provide a nice shade or protection barrier above the piece of equipment if installed outdoors as most packed column towers are located outside.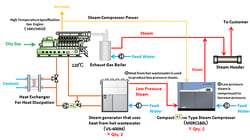 What about other forms of renewable energy do they work?
At water treatment or wastewater treatment facilities? The use of Co-generation has been around for many years at Wastewater plant facilities waste water treatment plant. A cogeneration unit is a combination "Generator" to produce power and a "Thermal" energy source to produce heated water. The water can be used domestically or can be used to produce chilled water with the help of a Chiller system. The waste water treatment plant provides a critical component by producing gases such as "Methane" which can be utilized as a fuel source for the cogeneration unit. Water treatment plants do not produce methane gases or other combustible forms of gases so you normally do not see Co-generation units deployed at a Water treatment facility.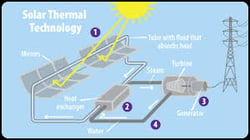 Solar Thermal is another form of renewable energy and it can be deployed and utilized at either a water treatment facility or a Wastewater treatment plant. If there is a need for hot water for domestic use than Solar Thermal can provide a nice energy saving benefit for the plant with a typical return on investment (ROI) of 2-3 years without incentives.
Other forms of energy saving methods are being evaluated every day at DeLoach Industries including the use of energy storage to reduce operating cost during peak hours of operations. This is called "Energy Shaving" and can play another role in lowering the operating costs of a Water Treatment Operation. For more information or to learn more contact the professionals at DeLoach Industries Inc. at (941) 371-4995.
Receive our Free Odor Control E-Book