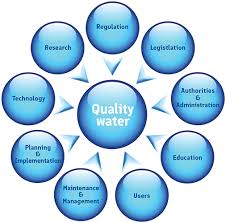 The water treatment industry has developed and evolved over the years to continue to find new ways to produce degassed water,
with many advances in both the technological methods of treatment as well as the refinement of the existing methods. The evolution of water treatment has been driven by the need for increased demand and over safety standards.
All human cultures on our planet share a
single commonality and
that is the dependency on water to survive.
Many existing technologies such as "degasification" have evolved with higher efficiency to meet the demand changes and provide safety to consumers and to systems. Degasification refers to the removal of dissolved gases from liquids and the science to degasify water is based upon the "Henry's Law" or to be exact the "proportionality factor is called the Henry's law constant" and was developed by William Henry in the early 19th century.
Henry's Law states that the amount of dissolved gas is proportional to its partial pressure in the gas. The most effective method to perform degasification is with the packed vertical tower called a degasifier or decarbonator. When water enters at the top of the tower it gravity feeds downward across a media bed. The media bed acts to reshape the water over and over again exposing any dissolved gas molecules to the surface of the water droplet. At the same time that the water is traveling down the interior of the tower an air flow is introduced in a cross current method either by force or by induction that passes over the water droplets and "strips" the gas molecules out of the water. The gases that are stripped then leave the tower through the exhaust at the top of the tower. This is the "basics of water degasification".