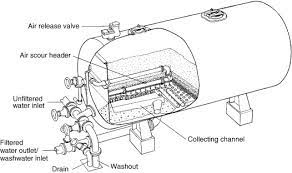 Industrial water systems often use water filters to reduce the level of solids in the water coming from industrial, semiconductor, manufacturing, refining, or even processes like oil and natural gas production. The wastewater may contain chemicals that are harmful to humans, plants, or animals. There are three types of filters that are commonly used in industrial settings: Gravity filters, pressure filters, and constructed wetlands. Pressure filters have two variations which include multimedia and higher-pressure micron or cartridge filters. Constructed wetland or natural filters are not often utilized in industrial applications based upon the requirements to obtain environmental permits and to safeguard the ecosystem.
There are many benefits to pressure filtering industrial wastewater. Pressure filters can remove particles down to 0.3 microns in size, they don't clog up as easily as other filter types, and it's much faster than other types of filtration methods. Pressure filtering is also very cost-effective because it uses less energy than other methods do. If you're looking for a high-quality industrial water filter, look no further!
Pressure Filters (Multimedia type) are often used in industrial settings to remove particles down to 15 microns in size. They're also very cost-effective due to the amount of energy they use; pressure filter utilize much less energy than other filtration methods. Pressure filters can include multimedia which is a mixture of gravel and sand, multimedia that combines gravel, sand, and anthracite, or multimedia that combines gravel, sand, greensand, and anthracite. The variations are dependent on the applications and the need.