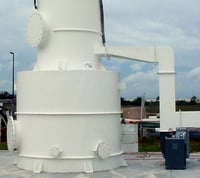 Aeration and Degasification towers come in two varieties, "Forced Draft" or "Induced Draft". A forced draft degasification tower has the blower mounted at the bottom or base of the tower. An induced draft degasification unit has the blower mounted on top of the unit. Knowing the difference will help you in designing your Industrial Water Treatment System.
The benefits of an induced draft unit is normally space as it does not require any area for the ground mounted blower and duct work. An induced draft blower sits directly on top of the tower and it pulls or draws air through the tower by allowing air to enter from vents located at the bottom. The major risk for induced draft towers is if the process contains any corrosive gases, such as Hydrogen Sulfide (H2S), then that gas will be pulled through the induced draft blower, causing it to come in contact with the support frame, housing, and motor assembly. Depending on concentration levels the blower can be damaged in a very short period of time.
When corrosive gases are present it is best to use a forced draft type degasifier since fresh air is pulled into the blower and then pushed into the tower. The corrosive gases, if present, will exist through the exhaust stack into the air or possibly into a scrubber. The selection of the forced draft process type will extend the life of the equipment. In addition, a forced draft unit is more easily adaptable to odor control scrubbers, should the need arise from odor complaints.
Both processes perform the same regarding removal efficiency. If the process is only degasification of Carbon Dioxide (CO2) for pH control, the induced draft type works great with no corrosion issues. If an induced draft type is needed regardless of the presence of Hydrogen Sulfide (H2S), the blower can be selected using stainless steel components and a TE or TEFC motor housing. For more information or to learn more contact the professionals at DeLoach Industries Inc. at (941) 371-4995.
Receive Your Free Odor Control E-Book
Related Blog: Why Select One Type of Degasifier Over Another Type?