The Term Sour Gas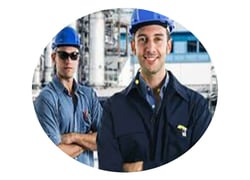 refers to any natural gas or other gas that contains high levels of hydrogen sulfide (H2S). The H2S is typically naturally occurring and found in deposits of natural gas and when there are concentrations above 5.7 milligrams per cubic meter or 4 milligrams per cubic meter when tested under standard temperature and pressure. At these levels the industry classifies the gas as "Sour." Of course there are variations to this classification dependent upon agency an organization.
A Sour gas is not to be confused with an acidic gas
although one could be both a sour gas is strictly defined by having large quantities of hydrogen sulfide and is usually accompanied by having mercaptans which adds to the foul smell and odor. The term is often used in the oil refinery business and when gases contain sour gas the process to remove the hydrogen sulfide and mercaptans is referred to as "Sweetening". The most common method to "sweeten" and remove the sour gas is by processing the gas through an "amine process" which removes the harmful gas.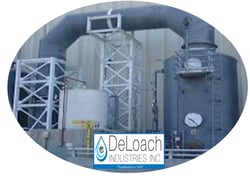 DeLoach Industries is a process equipment manufacturer that has been in the business of removing and treating hydrogen sulfide since 1959. The company specializes in "degasification" which is the removal of hydrogen sulfide from water, re-use water or waste water. Like natural gas many natural water well extraction process and sea water process produce hi concentrations of hydrogen sulfide that must be removed for either water quality for consumption or to protect the other process equipment such as "Boiler" or "Steam Turbines".
The company DeLoach Industries specialize in the design and manufacturing of forced draft degasification tower systems and vacuum degasification systems for the removal of harmful hydrogen sulfide (H2S) and have provide equipment and solutions to all the USA major petroleum producers.
When sweetening sour gas or removing hydrogen sulfide the need to treat and neutralize the hydrogen sulfide requires the use of an "Odor control scrubber" or "hydrogen sulfide scrubber" which captures and neutralizes the H2S gas to protect the environment, operators, and equipment in the surrounding area. Hydrogen sulfide can be very dangerous when levels are at a high and caution must be taken to capture and treat the noxious off gas. DeLoach Industries manufactures a full line of Odor Control Scrubbers for the treatment and neutralization of hydrogen sulfide gases. The systems have evolved from single and dual pass chlorine and caustic scrubbers to biological scrubbers (for lower concentrations) to now odor control scrubbers that are beginning to think for themselves with the use of artificial intelligence (AI).
Receive Your Free Odor Control E-Book