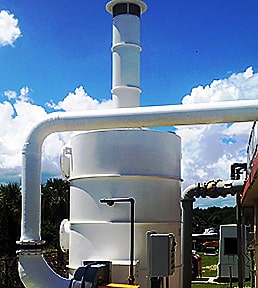 A manufacturing facility cannot ignore the importance of odor control.
The smell of chemicals, vapors, and fumes can spread quickly in a small area. They cause discomfort to workers and pose health risks to them. In addition, excess vapors directly impact the efficiency of exhaust or natural ventilation systems. For example, an odor control scrubber tower is an additional layer in the ventilation system of a manufacturing plant or chemical processing facility with odor issues. These towers effectively remove noxious fumes and odors from ventilation exhaust streams using an activated carbon filter and an ionic air filter.
Reasons why you should consider installing an Odor Control Scrubber Tower :
Health & safety of workers.
Anyone working in an industrial environment, directly or indirectly, is at risk of exposure to hazardous fumes and gases. At times, high concentrations of these gases may be emitted into the atmosphere in the form of unhealthy odors, putting the health and safety of the workers at risk. These gases may even be combustible in some cases, posing a significant threat to workers. The purpose of an odor control scrubber tower is to remove these gases from the contaminated air stream and help the workers stay safe. In addition, it reduces the risk of health issues such as nausea, headaches, loss of consciousness, allergy symptoms, dizziness, and many more. It also prevents workers from missing their daily performance targets due to sickness caused by toxic fumes.
Pro-environment step.
Although it is vital to protect workers from exposure to harmful fumes, it is also essential to protect the environment. Odor control scrubbers are used in petrochemical refining, pharmaceutical, food & beverage, paper, mining, chemical, and pharmaceutical industries. Therefore, choosing the right scrubber type that suits your industry's requirements is crucial. The right choice of equipment also protects the environment as it helps reduce operational costs and maintenance supervision. It also protects the environment because it produces minimal sludge and reduces the risk of corrosion.