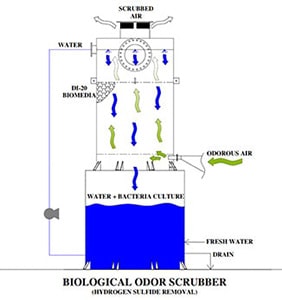 Odor control in a manufacturing facility is essential.
It prevents potential health risks and discomfort caused by the spread of chemicals, vapors, and fumes. Additionally, excessive vapors can hinder the efficiency of exhaust and natural ventilation systems.
One effective solution for addressing odor issues is the installation of an Odor Control Scrubber Tower. These towers are part of the ventilation system in manufacturing plants and chemical processing facilities.
Odor control scrubbers help to remove noxious fumes and odors from exhaust and air streams. This is an effective way to improve air quality. This process involves utilizing an activated carbon filter and an ionic air filter
Key Considerations for Installing an Odor Control Scrubber Tower:
Health and Safety of Workers:
Industrial environments pose risks of exposure to hazardous fumes and gases for workers. Unhealthy odors emitted in high concentrations can jeopardize their well-being and safety. In some cases, these gases may even be combustible, adding an extra level of danger.
Odor control scrubber towers remove gases from the contaminated air, ensuring a safe working environment. These towers reduce the risk of health issues such as nausea, headaches, allergy symptoms, eye irritation, and loss of consciousness. This helps maintain worker productivity and prevents sickness caused by toxic fumes and gases.