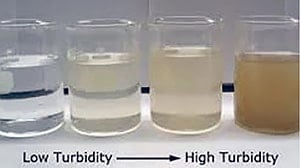 Water turbidity refers to how transparent or translucent the water is when examining or testing it for any use.
Water turbidity can impact food and beverage, municipal, industrial, and aquaculture operations. Turbidity is caused by suspended or dissolved particles in the water that scatter light which causes the water to appear cloudy or even murky.
Different particles can cause turbidity, including sediments such as silts and clay, fine inorganic or organic matter, algae or soluble colored organic compounds, and microscopic organisms. Turbidity is measured in a value referred to as NTU, which means Nephelometric Turbidity Unit. The EPA requires a turbidity level no higher than 0.3 NTU in the USA, and if a member of the partnership of safe drinking water, then the level must not exceed 0.1 NTU.
High turbidity can create habitats for other harmful elements, such as bacteria or metals, that can accumulate onto the particles. This increases the health risk for a potable water system. In aquaculture operations, increased turbidity from silts and sediments can harm and harm marine life, so it must be removed to safe levels. For the food and beverage industry, the impact of high turbidity can be both a safety concern and a visual and noticeable quality concern because if the turbidity is high, it can alter the physical look of the final product, for example, a distillery.