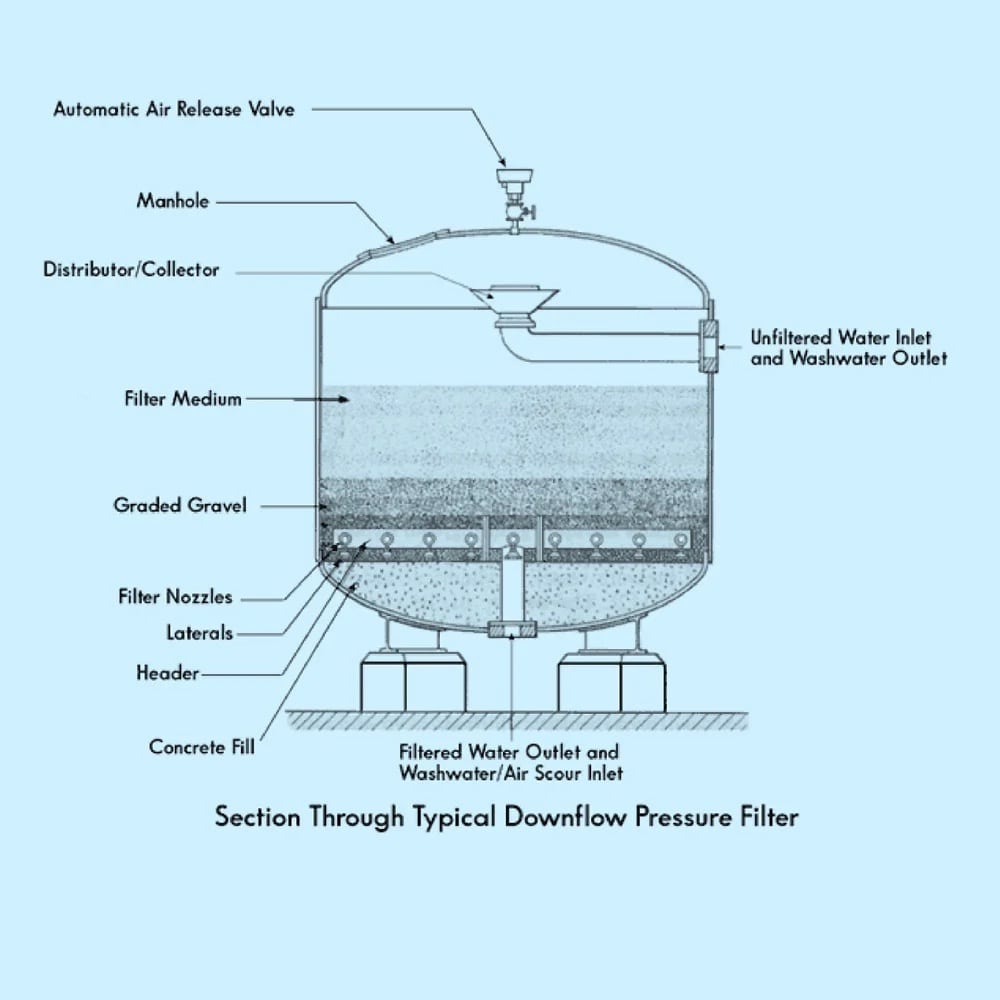 In water treatment, it is often required to remove small particulate matter from the raw water.
One of the most cost-effective ways to accomplish this is with a pressure filter. Sometimes referred to as "sand filters," a pressure filter consists of a rigid filter vessel capable of withstanding internal pressure, combined with pipework to distribute and collect water and one or multiple types of filter media. Pressure filters are commonly used in municipal water systems, industrial facilities, residential well water systems, and swimming pools. Typical pressure filter construction is shown below:
At the top of the filter vessel, a distributor is used to break up and distribute the water flow so that there are no concentrated flow jets that stir up the media bed. Inflow distributors are usually oriented to direct flow at the top of the vessel to disperse the flow further. Below the distributor is the primary filter bed. The filter bed contains fine-grained media, most often sand, including crushed anthracite coal, activated charcoal, garnet, or other granular bulk products. The media bed is the thickest layer in the filter vessel and is the region that does the actual filtering of the water or other fluid. Below the media bed will be one or more support layers. These will usually be larger-sized gravel that is chosen to support the filter bed while allowing high flow through the support layer and into the outflow header. The outflow header can take several forms but is often composed of a large central pipe with multiple smaller pipes or "laterals" attached. The laterals are slotted or perforated. This allows the pressurized water to flow into the laterals and out through the outflow header into the downstream components of the water treatment system.