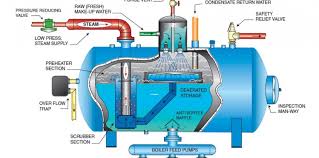 Industrial Boiler feed water in water treatment.
In the USA market alone it is estimated the manufacturing industry consumes over 400 millions of gallons per day (MGD) of water to produce steam. Approximately 60 millions of gallons per day (MGD) of water is sent to the blow down drains in manufacturing. Another approximate 300 millions of gallons per day (MGD) of steam is consumed for direct injection. All this steam required in manufacturing shares the same common need, "water". But not only water but "purified and treated" water is needed. For without the treatment process US manufacturers would face constant shut downs and increased capital spending driving their cost of goods through the roof. One form of water treatment to protect boilers is degasification and deaeration.
Degasification towers remove
hydrogen sulfide (H2S) and carbon dioxide (CO2), and quite often dissolved oxygen (DO). Removing dissolved corrosive gases is critical to the life and efficiency of the boiler and if the gases remain in the boiler feed water such as carbon dioxide (CO2) it will create a recipe for disaster, higher operating cost, and a reduced life for the boiler system. The carbon dioxide (CO2) will convert into carbonic acid and form a corrosive condition for the boiler and other critical components. If a boiler system is operating an ion exchange process prior to the boiler the regeneration cost will increase dramatically because the resins will be consumed by the carbon dioxide (CO2). In addition to preserving and increasing the life of the resin the removal of the carbon dioxide (CO2) will elevate the pH of the water without the addition of other chemicals again lowering the operating cost of the system.