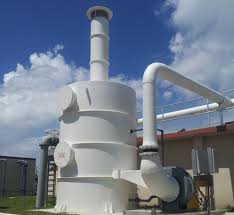 Avoiding problems with calcium chlorite, corrosive gasses with your odor control scrubber.
When planning or designing an odor control system one should pay close attention to several key variables that can cause havoc on a chemical odor control scrubber when trying to treat hydrogen sulfide or ammonia gases. The need for odor control occurs for many different forms and it is important to have a good understanding of the process that is creating the odorous or corrosive gas and the need for the odor control & air emissions treatment.
First begin to identify
all the potential obstacles that may creep up later after the chemical odor or corrosive gas control system goes on line like acid or caustic consumption. As an example, chemical odor control systems that are designed for water treatment for the municipal industry are typically needed and attached to a degasfication or decarbonation process which are often needed to treat hydrogen sulfide (H2S). However, many times designers may not pay close enough attention to the type of water process that is available to use for "make-up" water for the chemical scrubber and with the addition of caustic this can create scaling or fouling. This unknown variable of the make up water quality can lead to a complete tower shutdown if the chemical scrubber distribution and media bed scales or fouls. The most commonly used chemicals for a hydrogen sulfide (H2S) scrubber are either chlorine in the form of sodium hypochlorite or caustic in the form of caustic soda. Both of these chemicals are both common to a water treatment facility and already in place for the adjustment and control of pH.