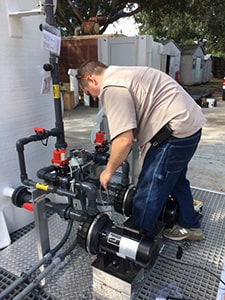 Basics of water decarbonation for dissolved organic carbon.
The water treatment industry continues to develop and evolve. Over the past two decades, there have been many new developments in technology and even more refinement in existing technologies such as "Degasification". The evolution and advancement of water treatment have been driven by the constantly increasing demand from an increase in population that demand cost-effective solutions and recognition to improve safety with the implementation of NSF 61 standards.
All human cultures on our planet share a single commonality: the dependency on water to survive.
Many existing technologies, such as "Degasification," have evolved with higher efficiency to meet the demand changes and provide safety to consumers and the systems. Degasification refers to the removal of dissolved gases from liquids, and the science to degasify water is based upon a chemistry equation known as "Henry's Law". The "proportionality factor" is called Henry's law constant" and was developed by William Henry in the early 19th century. Henry's Law states that "the amount of dissolved gas is proportional to its partial pressure in the gas." The most "cost" effective method to perform degasification is with the packed vertical tower called a "Degasifier" or "Decarbonator."
The key words in this previous sentence for owners, operators, and engineers to focus on is "the most cost-effective" as there is no other process more cost-effective at removing dissolved gases at the lowest cost than using a Degasifier or decarbonator. The process of degasification is simple enough to understand. Water is pumped to the top of a vertically constructed tower, where it first enters the tower through some type of distribution system at the same time, there is a cross-current air flowing up from the bottom by a blower located at the bottom of the tower, and the air encounters the water and is exhausted at the top of the tower through an exhaust port. There are various types of distribution systems, and we will explore these in later discussions. Once the water enters the top of the tower and passes through the distribution system, it then travels by gravity downward. The next thing the water encounters is some type of media packing. There are various forms of media packing offered in the degasification industry, and each type can offer higher performance or have the ability to deter fouling. The selection of the type, size, and volume is where the "experience, engineering, and understanding of each application" comes into play.