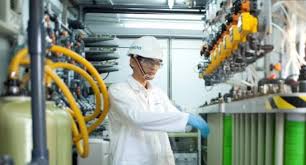 Requires an application commonly referred to as either "Degasification" or "Decarbonation" and it requires the use of a piece of water treatment equipment called either a "degasifier" or a "decarbonator".
Both of these are similar in nature and are designed for Carbon Dioxide (CO2) removal from the incoming water. A properly designed decarbonator can remove 99.99% of the free carbon dioxide gas that is present in the water stream. One of the primary reasons for utilizing a decarbonator or degasifier for the removal of carbon dioxide gas is the raise the pH of the water without the need to add caustic. resulting in high-purity water.
The other reason is the remove the CO2 prior to treating the water with Ion Exchange which utilizes Anion or Cation resins to reduce the regeneration cycles for the resin beds. High concentrations of CO2 consume the ion charge within the resins and require more frequent regeneration cycles. The difference between anion and cation resins is that one is positively charged (anion) and the other is negatively charged (cation), cation resins, attract positive ions with their negative charge.
The term decarbonation describes the process of the removal of suspended gas or the conversion of carbonic acids into free Carbon Dioxide. Carbonic Acid (H2CO3) is stable at normal ambient anhydrous conditions. However, Carbonic Acid decomposes when not stable and in the presence of any water molecules to form carbon dioxide (CO2). The Carbonic acid breaks down when present in water and it is converted to a gas based upon certain conditions. It is common to have CO2 present in water requiring a decarbonation process when utilizing certain types of water filtration such as membrane filtration with reverse osmosis or it can be present when the need to adjust pH is required. When removing (CO2) the process is often referred to as "Decarbonation", when removing (H2S) Hydrogen Sulfide the process is often referred to as "Degasification".