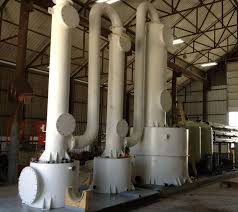 Caustic solution for Sodium hydroxide water treatment
There are many industries that require the use of a caustic scrubber which is considered a chemical scrubber and they range from the municipal industry, mining, semiconductor markets, pulp and paper and chemical refining. There is a wide variety of industrial processes that generate noxious or corrosive off gases that require treatment and a comparison is made about biological Vs. chemical. Often biological scrubbers have limitations due to concentrations, composition, or temperature of the contaminants and if the gas stream contains acid fumes then a biological scrubber is quickly ruled out.
The odor control selection is often fraught with choices of capital cost over operational cost and quite often comes down to familiarity from the designer or purchaser. It is always a good idea to freshen up on the industrial odor control the do's and don't's before selecting the final solution. If the off gas source that needs to be treated is hydrogen sulfide (H2S) or some other type of gas stream produced by an acid or ammonia it will often require neutralization for human health reasons and to protect equipment or may be required to meet regulatory compliance. Caustic scrubbers may be either vertical or horizontal by design, but both utilize a packed media bed of either random packing or trays to allow the gas fumes to meet the recirculating caustic solution which then forces the reaction to occur.