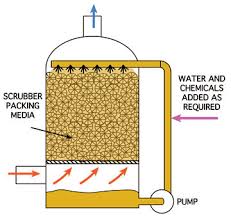 What type of Odor Control Scrubber do I select?
It's a common question many customers and design professionals ask in the Odor Control Industry when selecting, engineering, and deciding on the best odor control process to utilize to treat gases and noxious odors. An odor control system is comparable to choosing a car in many ways because you have many different options. Each odor control scrubber comes in different types to address the different variations within the industry. For example, odor control scrubbers are designed to treat "ammonia" and other ones to treat "acid" off-gases. Odor control scrubbers utilize "acid" or "caustic" as the scrubbing reagent to neutralize an off gas.
Odor control scrubbers also come with different purchase prices, each with different operating costs. It is always important to analyze the operating cost of the odor control solution you select because several different types may perform equally. Each may have varying initial purchase costs, but you should ask and understand, "what will the continued operating cost" be for the type of odor control system selected? And how long will the scrubber I selected last before additional costs are needed for any significant repairs to keep it running? When you are a design professional, if you choose an odor control system that is difficult or expensive to maintain, you can be assured you will have continued phone calls from customers looking for answers and solutions.
The industry may soon change with the adaption of "artificial intelligence" as AI is slowly incorporated into the market. Companies like DeLoach Industries are now incorporating the first variation of artificial intelligence into their odor control scrubber line of products to help owners and operators with real-time information and data communications. Remember that many types of odor control systems work and remove odors, but selecting and designing a system that works efficiently and effectively without breaking the bank can be challenging. A design professional should evaluate the cost of the reagents utilized in an odor control scrubber at any specific location because the cost of "caustic" in one location may vary from another. Or the cost of "acid" may have different base costs or handling costs and considerations. For a design professional and the supplier of the system, it is essential to consider what an owner and or their operators will be faced with to maintain the odor control system over the long term and what the anticipated operating cost will be both on a day to day basis and a long term service replacement basis.