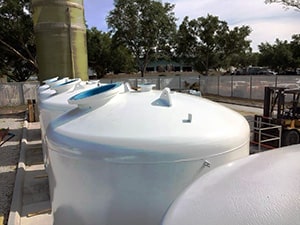 The need to remove harmful elements from water such as Hydrogen Sulfide and Carbon Dioxide
from water in the pisciculture and aquaculture market is extremely important. In order to achieve maximum results, the industry utilizes a treatment technology called "Degasification" and controls the pH precisely to maximize results. When utilizing equipment such as the DeLoach Industries degasification systems the hydrogen sulfide and carbon dioxide levels can be removed to 99.999% ug/l.
pH control with water degasification in water treatment is very important for the aquaculture and the pisciculture market. In addition, there are a host of other organic and inorganic elements found in water both naturally occurring and manmade that require removal during some part of the water treatment process and pH plays a significant role on the effectiveness of the treatment process.
Every application of degasification depends on pH adjustment to maximize results. As an example, the treatment of water may require the removal of hydrogen sulfide (H2S) to protect the species during the growth period. Hydrogen sulfide can be removed either as a "free" gas or requires the conversion of sulfides into (H2S) as a gas they you will quite often also see the need to adjust pH of the water chemistry to maximize both the removal and the conversion to increase the efficiency of the equipment being utilized to remove the hydrogen sulfide such as a degasification tower or commonly called a degasifier.